We stay educated ... so you can simply enjoy your home.
State of the Art Technology
We are a fully computerized inspection company, utilizing cutting-edge handheld and portable computers, 3-D Inspection Systems software, and digital cameras allowing for full-color printing to produce top-quality reports. We will also use professional inspection equipment as appropriate, including moisture meters, electrical circuit analyzers, infrared thermometers, and pressure gauges, to provide you with the thorough evaluations you deserve.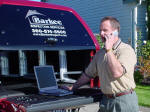 Reports can be e-mailed, faxed, regular mailed, or hand delivered within 24 hours. A recent option is for us to upload password protected reports to this Web site, allowing you to view and download the reports at your leisure, eliminating e-mail delays or issues from a large e-mail download. Just let us know your preference. When necessary, we are able to provide reports printed on-site for those special circumstances or when time frames are critical. Let our expertise work for you.
www.BarkeeInspect.com
This is our one-stop home inspection information resource. This quality Web site is available for your convenience. We keep you abreast of industry changes and provide many important links to educational, informative, and industry Web sites, such as the Consumer Products Safety Commission, an important resource for product recalls (check out our Links/Resources Page). Bookmark our Web site now, and check back here often.

Barkee@Home e-mail Club
Please sign up for our FREE e-mail club, where we will periodically pass on home maintenance tips, safety ideas, information on product recalls, etc., of interest to families and homeowners. Just another way we are striving to be your homeownership partner.